Home Visits
What are Home Visits?
The Healthy Families New York Home Visiting Program offers home-based services to support expectant families and new parents with the changes and needs that often come with the birth of a new child. Services are provided at no cost. Families who participate in the program are offered long-term, in-home services until the child is in school or Head Start.
Healthy Families New York services: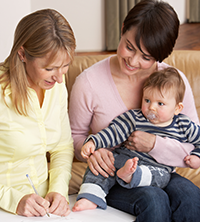 Begin with a specially-trained staff member meeting your family in your home for an assessment of the strengths and challenges that are unique to your family.
After the assessment, you are provided with referrals and services that address your family's needs and goals.
Services may include in-home visits beginning on a weekly basis and decreasing over time as your family's needs change. Home visits typically last an hour.
During visits, your home visitor may:
Connect you with medical providers for prenatal/well-baby visits and immunizations.
Provide you with information on prenatal care, parenting, infant and child development, and child health.
Demonstrate activities for you to practice with your child to increase bonding and to stimulate cognitive and physical development.
Assess your child for developmental milestones and provide referrals for early intervention if delays are indicated.
Help your family access community resources and services, such as job training, ESL classes, legal services, GED preparation classes, and health care, among others.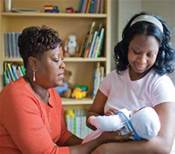 Home visits are provided by a Family Support Specialist (FSS) who is hired from and represents the language and culture of the community where you live. All FSSs receive intensive training from nationally certified trainers.
FSSs are committed to respecting the strengths of your family, supporting you in identifying and achieving your goals, and in maintaining a healthy environment for your baby.