About Healthy Families New York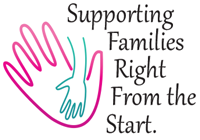 Supporting Families Right From the Start
Healthy Families New York (HFNY), a Healthy Families America (HFA) accredited home visiting program, seeks to improve the health and well-being of infants and children through home-based services delivered by non-profit organizations in local communities. HFNY was established in 1995 by the New York State Office of Children and Family Services (OCFS).
HFNY is an evidence-based voluntary home visiting model designed to provide services to families that begin prenatally, or at birth, through age five. HFNY uses an infant mental health/relational development approach that promotes parent-child attachment to achieve its mission of preventing child abuse, neglect, and other adverse childhood outcomes.
HFNY strategies are relationship-based, culturally sensitive, family centered, strength-based (building on parental competencies) and grounded in the parallel process. HFNY home visitors develop healthy relationships with families and partner with parents to support them in responding in a sensitive and in a nurturing manner to their young children. HFNY offers comprehensive support services designed to promote positive parent-child interaction, healthy child development, healthy relationships, family self-sufficiency, and connections to community resources when needed.
The goals of the program are to:
Support positive parent-child bonding and relationships.
Promote optimal child and family health, development, and safety.
Enhance family self-sufficiency.
Prevent child abuse and neglect.
Healthy Families New York is a collaboration of Healthy Families New York home visiting programs, the New York State Office of Children and Family Services, Prevent Child Abuse New York, Inc., the Center for Human Services Research of the State University of New York at Albany, and Healthy Families America.