Funders
Healthy Families New York has worked to improve the health and well-being of infants and children for over 20 years. With a proven record of success in a number of birth and development outcomes, the program has made a positive difference in the lives of thousands of families.
Click on the questions below or Expand All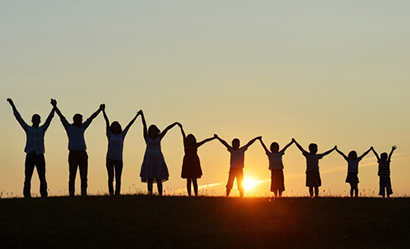 Healthy Families New York, a Healthy Families America accredited home visiting program, seeks to improve the health and well-being of infants and children through home-based services delivered by non-profit organizations in local communities. The program was established in 1995 by the New York State Office of Children and Family Services. It is an evidence-based voluntary home visiting model designed to provide services to families that begin prenatally, or at birth, through age five
Research demonstrates that HFNY is an evidence based program, meaning that is has proven positive outcomes. Based on findings from a randomized controlled trial, HFNY has been designated a proven program by the Promising Practices Network on Children, Families, and Communities. Promising Practices Network evidence criteria include an assessment of study design, effect size, and statistical significance. HFNY has demonstrated effects in improving birth outcomes, preventing child abuse and neglect, and promoting success in school.
Research from a randomized controlled trial shows that HFNY works for a diverse array of families, including first-time teen parents and those who have had experience with the child welfare system. Specifically, research shows that HFNY:
Improves birth outcomes
Promotes success in school
Prevents child abuse and neglect
Supports positive parenting
Saves money
Healthy Families New York partners with an array of local and state agencies and organizations. These partnerships include hospitals, health departments, local departments of social services, and local non-profit organizations. Partnerships are designed to enhance the mission and provision of services of both HFNY and the partner agency. Partnerships are built on collaborative and reciprocal relationships to enhance the services and functions of all partners.
Contact your local program to learn more about Healthy Families partners in your area.
HFNY is primarily funded through the New York State budget. Programs may also receive funding through private and public foundations such as:
United Way
Robin Hood Foundation
Maternal, Infant & Early Childhood Home Visiting Program (US Department of Heath and Human Services, Health Resources and Services Administration)
Babies do not come with instruction manuals. Healthy Families New York nurtures healthy parent-child relationships, which is the foundation for health and well-being over the life course. Infants' health at birth and the care they receive during their early years has a profound impact that lasts throughout their lives. Regular visits by trained home visitors during this crucial time can influence the course of families' lives and positively impact their children's development. By reaching overburdened families in the prenatal and immediate postnatal periods, home visiting can prevent problems that necessitate costly intervention and services.